Ruth and I have been writing a song a month as part of Resound Worship's 12 Song Challenge. In June we were challenged to write something to mark the journey through the pandemic. We penned some words to a familiar tune – Aberystwyth. You may know it as Jesus Lover of My Soul.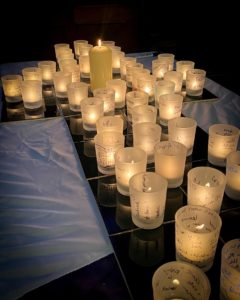 We have sung it at Holy Nativity a few times and it has been well received. Last night we used it at #EETG2021 as part of the prayers with a gathered congregation. We were asked to share the words. We intended to record and release it like we did with Let All Mortal Flesh, but time is escaping us. So here it is:
Through these days of dark and fear, through the hours of loneliness,
Days of strife and nights of tears; hold I to thy promises.
Thou, the Lord who stilled the waves, calm these anxious thoughts of mine,
Make my weak heart strong and brave: keep me in thy love divine.

Through this land of broken dreams, through the barren wilderness,
Empty fields and dried-up streams; cling I to thy faithfulness.
Thou, the Lord who raised the dead, heal this broken heart of mine,
In thy footsteps would I tread: keep me in thy love divine.

Through the saving grace of Christ, through His sacred mystery,
Lamb of God, my sacrifice; make me ever one with Thee.
Thou, the Lord who conquered death, Presence true in bread and wine,
Sing it with my every breath! Keep me in thy love divine.